Bathroom Tile
Tile is a versatile material that can be used in every part of your bathroom. From the floor to the walls, tile flooring, backsplashes and shower tile can be dramatic centerpieces in your bathroom that draw attention and add value to your home. At Essis & Sons Carpet One Floor & Home, we can help you find the best tile option for your next bathroom project. Visit our showroom and see various tiles from porcelain to ceramic and stone in different shapes and sizes. Our flooring professionals can help you choose a tile that fits your lifestyle while staying on trend and keeping your end vision in mind. Your perfect bathroom is only a short visit away.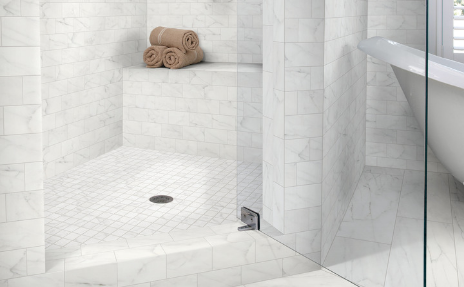 Bathroom Flooring
Tile is an ideal choice for bathroom flooring because of its ability to resist moisture and wear. It's no secret that water is common in your bathroom, so choosing tile is imperative because it will not be negatively affected like other types of flooring. Depending on the type of tile, it can also help with preventing slips and falls on the bathroom and shower floor. You can choose the same tile for your bathroom and shower floors, or two different styles. Finding a combination of functionality and beauty in your bathroom floor can be easily achieved with tile.
Bathroom Backsplash
Bathroom backsplashes are most commonly known to be behind mirrors, vanities, and on bathroom walls. Adding a backsplash in your bathroom using tile can add elegance and class. Ceramic and mosaic tiles are common for backsplashes and can be completely customized. Mosaic tiles come packaged with a mesh backing, allowing you to pick and choose the shapes and sizes that you desire. Create a picture-perfect bathroom design by arranging mosaics in a unique pattern, or stick with a more basic ceramic tile and add some pieces of accent décor along the way. Keep in mind that there are many decisions to make, so thinking about the overall look of the bathroom throughout the process will help bring about a positive result.
Tiled Showers
Because of its durability and many distinct design methods, tile for bathroom shower walls can be one-of-a-kind in your home. Having a waterproof shower to protect your walls is essential in choosing what your shower looks like and how it functions. Between tile color, shape, size, texture, grout color and patterns, there are thousands of tile combinations to choose from. Take your bathroom from drab to fab and add luxury with a tiled shower. Consider going rogue with a patterned tile in a built-in shower niche, or traditional with a rectangular tile in a brick pattern. Both options will add flair and value to your bathroom shower.