COREtec Luxury Vinyl Flooring
Essis & Sons Carpet One Floor & Home is your neighborhood COREtec luxury vinyl dealer. We have an amazing selection of quality luxury vinyl flooring for you to choose from in our showroom. As your local retailer, we are proud to offer our customers quality products and name brands. Our collection of luxury vinyl flooring includes tile and plank options that feature water resistant or waterproof qualities. Luxury vinyl is the ultimate choice for durable, easy to care for, beautiful looking flooring.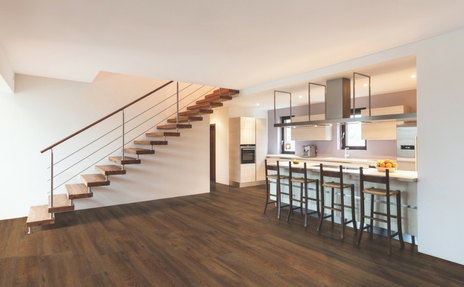 Waterproof Flooring
All COREtec products feature waterproof qualities, making them a great option for kitchens and bathrooms alike. COREtec's core structure is made up of recycled wood, bamboo dust, limestone, and virgin PVC, which gives it its name as well as waterproof qualities. Their cork underlayment also adds stability within the plank, and they will not expand or contract due to changes in humidity.
We carry the following COREtec products in our showroom: COREtec Plus plank, COREtec Plus tile, COREtec One, COREtec Plus HD, COREtec Plus XL, and COREtec Plus Design.
Benefits of COREtec Flooring
Luxury vinyl flooring is easy to clean and care for, COREtec floors only require regular sweeping and the occasional mopping. Compared to hardwood and tile, COREtec is less time consuming to install, and because of its floating floor construction, you can walk on them the same day.
COREtec features enhanced comfort. The unique cork underlayment makes an incredibly comfortable floor. This cork backing absorbs subfloor imperfections, and also absorbs sounds, keeps your air healthy, and inhibits the growth of mold or mildew. In addition, COREtec floors are warmer to step on than stone or hardwood.
The core of these luxury vinyl floors keeps the floor from expanding and contracting like natural hardwood would. COREtec floors can stand up to moisture without the worries of buckling or cupping, making it a great choice for basements, laundry rooms, and bathrooms.