Mannington Adura Max Luxury Vinyl Tile
There are many, many types of beautiful synthetic flooring options available today, but there is only one Mannington Adura Max. With its peak performance abilities, and its trend-ready styles, Adura Max is a luxury vinyl plank and tile that's truly remarkable. Combining ultra-realistic visuals and textures with innovative performance solutions, this is a floor made to stand the test of time.
Crafted for easy and quick installation, Adura Max is offered up in a wide variety of colors, textures, styles, and patterns, making it easy to create and customize your intended look.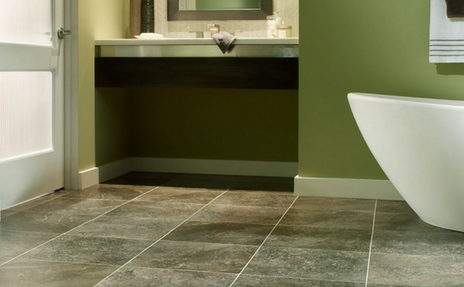 Exploring Adura Max
For parents and pet owners, having a floor that can withstand the day's inevitable accidents is definitely a requirement. Adura Max appeals to busy families with its impressive durability. It takes a multipronged approach to common concerns, such as stains, spills, accidents, and dirt.
With its four durable layers and patented Scratch Resist top coat, Adura Max serves its intended purposes by forming a tough barrier that shields your subfloor. Its HydroLoc core is 100% waterproof and also contributes dimensional stability. Adura Max's internal padding results in a floor that's significantly warmer and more comfortable than traditional hardwoods or laminates. It can be installed directly over any existing subfloor and, since it comes with an impressive warranty package, you can count on many long years of enjoyment when you choose Adura Max.
At Essis & Sons Carpet One Floor & Home we're excited to offer up a full line of hardwearing Mannington Adura Max luxury vinyl flooring products. Visit one of our showrooms, with locations in York. New Oxford, Lancaster, Mechanicsburg, Chambersburg, and Harrisburg, PA, today and discover what Mannington Adura Max can do for you and your family.